Opened in 1737, the Teatro di San Carlo is a beautiful Neoclassical building housing the oldest continuously running public opera venue in the world.
Commissioned as a new and bigger royal theatre by the Bourbon King Charles III of Naples, the Teatro di San Carlo was opened in 1737 with seating capacity for almost 1,400 people. It was admired for its exquisite blue and gold decoration and magnificent architecture, and for a while was the largest opera house in the world.
The theatre at a glance
After a fire caused a huge amount of damage in 1816, the Teatro di San Carlo had to be restored, and it was rebuilt into a traditional horseshoe-shaped auditorium, painted with dazzling frescoes and updated to red and gold decor.
Today, after massive investment in restoration following World War II bombing and general ageing, the theatre remains a sumptuous venue for opera and ballet. Guided tours are offered in English and Italian of the main auditorium, the royal box and the two foyers. Alternatively, theatre fans may be interested in seeing a performance for a fully immersive experience in the iconic venue, with tickets costing from €20 upwards depending on seats.
Beautiful but not unmissable
A UNESCO World Heritage Site, the theatre is among the most striking and important in Europe, and will certainly leave visitors in awe of its luxury. However, if you don't have much time to spend in Naples, and you're not a huge theatre fan, we recommend prioritising a visit to the nearby Royal Palace of Naples instead,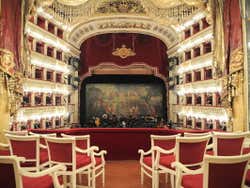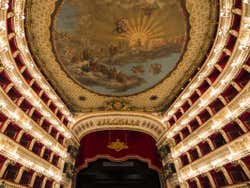 Schedule
Guided tours
Monday to Saturday (excluding holidays): 10:30 am, 11:30 am, 12:30 pm, 2:30 pm, 3:30 pm and 4:30 pm. 
Price
Adults: € 9 (US$ 9.70).
Young people under 30/seniors over 60: € 7 (US$ 7.50).
Children under 10 years old: € 4 (US$ 4.30).