An imposing fortress located on the Gulf of Naples, Castel dell'Ovo (Egg Castle in English) has served to defend the city, as a prison and as a royal residence throughout its long history.
Located on the Naples coastline is the imposing Castel dell'Ovo, the oldest standing fortification in the city. According to legend, the Roman poet Virgil hid a magical egg in the foundations of the fortress, promising that if the egg were broken, the city would suffer great catastrophes! Whether or not the myth is true, the name stuck: "Egg Castle".
The castle at a glance
The castle that currently stands on the Borgo Marinaro, the former island where the Greeks first settled in the 7th century BC, was built by the Normans in the 12th century. These days, Castel dell'Ovo is used for events and temporary art exhibitions, but strolling around its fortified stone walls gives visitors a great sense of the history it has seen: from a grand Roman villa, to the royal residence of the Angevins before Castel Nuovo was built, to housing a prison.
Unparalleled views
While the castle itself is practically empty, its location affords incomparable views over the Gulf of Naples, with Mount Vesuvius watching over in the background. Entry is free and its a great place to get a feel for the city's lengthy history while admiring the surrounding area.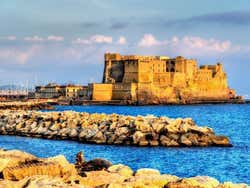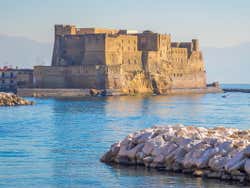 Schedule
Monday to Friday: 9 am to 7 pm.
Sunday: 9 am to 1 pm.