Built between 1299 and 1314, the Cathedral of the Assumption of Mary, also called the Duomo, is Naples' main church and home to important artistic, cultural and historic heritage.
The Duomo at a glance
Shoulder to shoulder with its neighbouring buildings as if they're bodyguards, Naples Cathedral has an imposing Neo-Gothic façade with three entrances. Crossing over the threshold, you'll find yourself facing three naves of more than 320 feet (100 metres) in length and 150 feet (48 metres) in height. The fusion of different architectural styles - from Gothic to Baroque to Neo-Gothic, reflecting it lengthy history - do not detract from its captivating beauty.
Beautifully detailed frescoes, intricate bronze railings and grand altars, as well as sculptures and canvases by important Italian artists... there's an enormous amount to see in the Cathedral, and entrance is free! 
Probably the most unusual item in the Duomo is the vial of the blood of Saint Januarius (San Gennaro in Italian), to whom the cathedral is also dedicated. Believe it or not, the saint's blood is said to turn from solid to liquid during certain festivities... you can judge that for yourself!
Worth a visit
While the Duomo isn't particularly striking from outside, it is a very important building and the richness of its interior means it really is worth a visit. If you are short on time however, we suggest prioritising San Francesco di Paola Basilica or San Domenico Maggiore Basilica instead!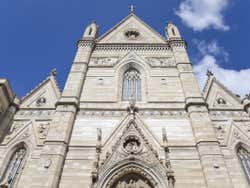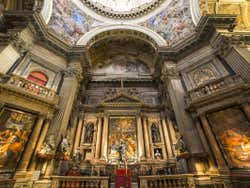 Schedule
Daily from 8 am to 12:30 pm, and from 4:30 pm to 7 pm.
Price
Free entry.
Baptistery: € 2 (US$ 2.20).