One of Naples' most visited chapels and art museums, the Capella Sansevero is home to the Veiled Christ, considered to be one of the world's most remarkable sculptures.
The origins of the museum-chapel known as Capella Sansevero are entwined in myth and legend... the story goes that in 1590 a wrongly imprisoned man saw an image of the Madonna appear where the church stands today, and vowed to build a shrine there.
He kept his promise, and when the Duke of Torremaggiore later prayed to the Madonna for recovery from a serious illness, and was cured, he built a chapel in place of the shrine. In the early 17th century, his son enlarged the chapel to create a family mausoleum, and the Capella Sansevero has changed little since then.
The chapel at a glance
The chapel is centred around a spectacular marble sculpture of Veiled Christ from the 18th century. Considered one of the most incredible sculptures in the world, its intricately delicate detail and evocative subject makes it truly captivating.
Watching over Veiled Christ from the walls of the chapel are many other allegoric statues by notable Italian artists, also exquisitely carved from marble. The crowning glory is the painted ceiling, a fresco named the Glory of Paradise.
In the crypt of the chapel, visitors will find a somewhat peculiar exhibition known as the Anatomical Machines. Housed in glass cases are the skeletons of a man and a woman with their circulatory system visible. They are a very accurate recreation, for having been created in the mid-18th century, and make for an intriguing, if macabre, visit!
Interesting - but not unmissable
The Veiled Christ is a world-renowned masterpiece of sculpture, meaning that the chapel receives a large number of daily visitors wanting to see the delicacy and realism of the sculpture with their own eyes. While the sculpture is impressive, like the rest of the art there, the price is quite high for what's on offer, so this isn't a must-see attraction unless you're desperate to see Veiled Christ.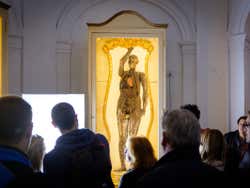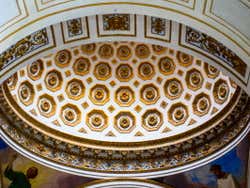 Schedule
Wednesday to Monday: 9 am to 7 pm.
Closed Tuesdays.
Price
Adults: €8.
Young people between 10 and 25 years old: €5.
Children under 10 years old: free.