San Lorenzo Maggiore Basilica
San Lorenzo Maggiore Basilica is one of the oldest churches in Naples. Located in the exact centre of the historic city, beneath its floors lies an important ancient Greco-Roman archaeological site.
Located in the exact geographical centre of historic Naples, the Monumental Complex of San Lorenzo Maggiore is an important building on many levels - literally! 
Journey back in time above and below ground
Originally commissioned in the 6th century, the basilica was built as it is seen today during the late 1200s, when the Angevins rebuilt it in Gothic style. It has undergone a number of reforms over the centuries, most notably in the 18th century construction of its façade, but it is still considered one of the city's finest Medieval era buildings.
Inside the church, the sombre Gothic architecture has been restored, and the museum showcases fascinating frescoes, paintings and religious artefacts from its lengthy history. 
Below the church, you'll find the remains of an ancient two-storey Greco-Roman market, the city's original macellum. Discover millennia-old bakeries, wine shops and laundries just a couple of metres underneath the bustling streets of modern Naples.
A fascinating visit
The art, architecture and archaeology of the San Lorenzo Maggiore Monumental Complex provide incredible insight into the evolution of civil and political life in Naples, and its central location means it's well worth a visit.
Top tip: don't confuse the ruins beneath the historic basilica with Napoli Sotterranea, or Naples Underground, the enormous tunnel system located close by!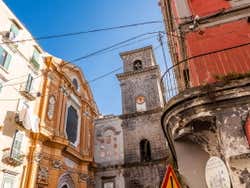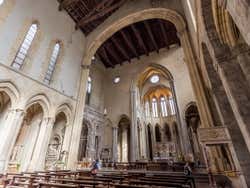 Schedule
Daily from 9:30 am to 5:30 pm.
Price
Archaeological site and museum:
Adults: € 9 (US$ 9.60).
Children under 18 years old: € 6 (US$ 6.40).