Originally built between 1279 and 1282, Castel Nuovo - also called Maschio Angioino (Angevin Keep) - is an imposing Medieval Renaissance fortress located next to the port of Naples.
Named Castel Nuovo (New Castle) to distinguish it from the city's other fortresses when it was built in the 13th century by King Charles I of Anjou, this imposing castle is more commonly known by locals as Maschio Angioino, or the Angevin Keep.
After French rule ended and Naples was conquered by the Spanish Empire in the mid 15th century, Castel Nuovo was completely rebuilt by Alfonso V of Aragon, creating the Medieval Renaissance style fortress that stands majestically by the port today.
Exploring Castel Nuovo
Enormous and impressive even from a distance, Castel Nuovo has five round towers united by impenetrable stone walls. Its main entrance is an intricately carved white marble triumphal arch squeezed between two of the watchtowers.
Inside, visit the Cappella Palatina, or Palatine Chapel, to see beautiful historic frescoes - some of which were painted by Giotto; and head to the Sala dell'Armeria, or Armoury Hall, to catch a glimpse of the Roman ruins under the glass floor. 
Upstairs, visitors can peruse a collection of artwork by Neapolitan painters from the 17th to early 20th centuries (exhibition closed on Sundays), while the Hall of the Barons - historically the castle's Throne Room - nowadays plays host to city council meetings and cultural events.
Know before you go
Castel Nuovo is one of Naples' most striking buildings, so no trip to the Italian city would be complete without a stroll around its towering walls. The castle also offers excellent views over the bay, so don't forget your camera!
If you're interested in seeing the inside of a castle or learning more about Naples' history, the nearby Castel dell'Ovo or one of the city's museums make for a more interesting visit.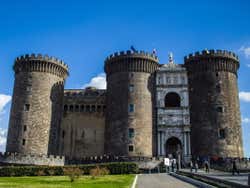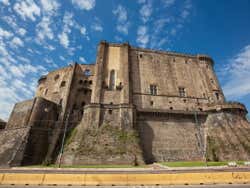 Schedule
Monday to Saturday: 8:30 am to 6 pm.
Sunday: 10 am to 1 pm.
Price
Adults: € 6 (US$ 6.40).