Hidden under the streets of Naples, Napoli Sotterranea holds the key to understanding the city's history. Explore the fascinating tunnel system!
A look back in time
Originally dug by the Ancient Greeks for material to build Neapolis in the 4th century BC, these underground tunnels were later used by the Romans as aqueducts to supply water to the city. Expanded over two and a half millennia, this subterranean network stretches for 280 miles (450 kilometres) under modern Naples.
During the Second World War, Naples was the most bombed city in Italy, but the existence of these secret hiding places lying 120 feet (40 metres) below the earth saved the lives of more than 200,000 people who used the tunnels as bomb shelters.
Having been home to so many people during the war, this labyrinth of tunnels, caves and cisterns was left in disrepair, filled with rubbish and abandoned until some 30 years ago, when it was renovated and converted into one of the city's top tourist attractions: Napoli Sotterranea (Italian for Naples Underground).
Underground exploration
Climb down more than 100 steps into the belly of Naples and explore the city from a new perspective. Walk through thousands of years of history seeing aqueducts, sewer tunnels, cisterns - some still full of water today -, caverns, catacombs and chambers built out of the rock. Look out for the remains of a Greco-Roman theatre and Emperor Nero's dressing room!
Worth a visit?
Naples Underground is a fascinating visit, however, please note that many of the tunnels are very narrow and dimly lit; some only lit with a small candle. If you suffer from claustrophobia, or don't feel comfortable in small, dark spaces, then this activity is not recommendable for you.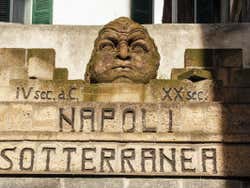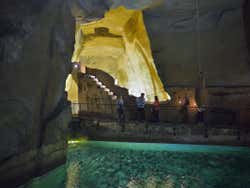 Schedule
Guided tours in English: daily at 10 am, 12 pm, 2 pm, 4 pm and 6 pm.
Price
Guided tour: € 10 (US$ 10.80).