Herculaneum was an Ancient Roman city that suffered the same fame as Pompeii when the volcanic eruption of Vesuvius buried it in the year 79 AD.
In the year 79 AD, Mount Vesuvius erupted and buried everything around it under more than 20 feet (6 metres) of volcanic ash. As in Pompeii, many citizens of Herculaneum weren't able to escape and the entire city was frozen in time by the lava.
What to see in Herculaneum?
Despite being smaller than Pompeii - which actually makes it much more manageable to explore! - the ancient Roman town of Herculaneum was much wealthier, and examples of lavishly decorated villas can be found around the archaeological site.
Houses, public baths, taverns, temples and statues are almost perfectly preserved, giving unbelievable insight into what life was like for well-to-do families in the Roman Empire. It's even possible to see the frescoes and mosaics that still decorate the walls of the ancient mansions almost two thousand years after they were buried.
Unlike in Pompeii, the volcanic debris that covered Herculaneum was carbonized, which means organic-based materials like wood, food and even people were much better preserved. While some residents managed to flee the city, many didn't make it. A particularly striking area of the ancient ruins is the boat houses, where skeletons can be seen, buried alive while waiting for rescue from the sea. 
A journey back in time
It may not be as famous as Pompeii, but Herculaneum is as fascinating and more beautiful as its ancient neighbouring city and is well worth a visit.
How to get to Herculaneum?
There are a few different ways to get to Herculaneum from Naples:
Organised tour: this is the easiest way to get to Herculaneum and includes hotel pickup and drop off, and a guided tour, so you don't have to worry about transport at all. Book our Day Trip to Herculaneum.
Train: catch the Sorrento Circumvesuviana train from Naples and get off at Ercolano Scavi. The journey takes about 15 minutes and costs around € 2 (

US$

2.10).
Rental car: this option can turn out to be cheaper and easier if you're travelling as a group and have other excursions planned to nearby sites. Check out our car hire prices here, but remember to factor in that most Italian roads are toll roads.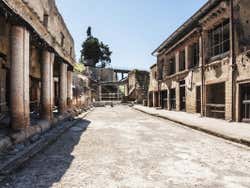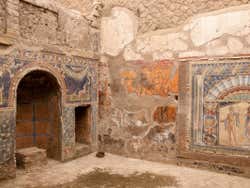 Schedule
1 April - 31 October: 8:30 am to 7:30 pm
1 November - 31 March: 8:30 am to 5 pm
Closed 1 January, 1 May, and 25 December
Price
Adults: € 11 (US$ 11.80)
EU citizens between 18 and 25 years old: € 5.50 (US$ 5.90)
EU citizens under 18 years old and over 65 years old: free entry
Combined ticket with Pompeii, Oplontis, Stabia, and Boscoreale
Adults: € 20 (US$ 21.40).
EU citizens between 18 and 25 years old: € 10 (US$ 10.70)
Herculaneum Tour € 70 (US$ 74.90)