Naples National Archaeological Museum
With an extensive collection of artefacts from Pompeii and Herculaneum, Naples National Archaeological Museum (MANN) is one of the oldest and most important of its kind in the world.
The museum at a glance
Originally built as army barracks in the 16th century and converted to a museum in the 19th century, the National Archaeological Museum of Naples is spread across four floors and showcases a huge collection of Greek and Roman antiquities as well as pieces from Ancient Egypt.
On the lower ground floor, the Egyptian Collection contains over 2,500 pieces, making it one of the largest of its kind in Italy. The ground floor is home to one of museum highlights: the Farnese Collection. One of the most important artistic collections from Greco-Roman Antiquity, this exhibition includes perfectly-preserved classic sculpture and objects recovered from the villas of ancient Rome.
The upper floors showcase artefacts from the ruined cities of Pompeii and Herculaneum, including mosaics and bronze sculptures that survived the eruption of Vesuvius, as well as domestic objects like coins. A scale model of Pompeii allows visitors to witness the sheer extent of devastation caused by the infamous volcano.
There's also a "Secret Cabinet", as the Bourbon Monarchy named the rooms housing the extensive collection of erotic items from the Pompeii and Herculaneum excavations.
Extensive & entertaining
The National Archaeological Museum plays an important role in the archaeological heritage of Naples and Italy as a whole, and its diverse exhibitions are full of fascinating artefacts, making it an entertaining visit for most travellers to the city. It provides an excellent complement to day trips to Vesuvius, Pompeii and Herculaneum, allowing for in-depth insight into daily life in antiquity.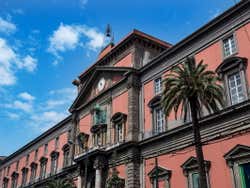 Schedule
Wednesday to Monday: 9 am to 7:30 pm.
Tuesdays: closed.
Price
Adults: € 18 (US$ 19.30)
Artecard: € 9 (US$ 9.60)
Under 18s from the EU: Free
18 - 24 year olds from the EU: € 2 (US$ 2.10)
First Sunday of the month: free