Built when Naples was under Spanish rule, the Palazzo Reale is home to lavishly decorated royal apartments as well as a magnificently preserved theatre and chapel.
One of four royal residences around Naples used by the Bourbon Kings while they ruled the Kingdom of the Two Sicilies, construction on the Palazzo Reale began in 1600, although it would see a number of restorations and additions over the following centuries.
The current palace and its grounds are dedicated to the Teatro di San Carlo, the Teatrino di Corte, the National Library and a museum showcasing 17th to 19th century history through the exquisitely decorated royal apartments.
Exploring the Palace
The Palazzo Reale offers visitors the opportunity to travel back in time through the history of Naples' monarchs, discovering the lavish lifestyle of the kings, queens, princes and princesses who called the palace home. 
Don't miss visiting the impressive throne room, imagining the plays and operas performed in the private theatre, and admiring the antique furniture and incredible artwork throughout.
An interesting visit
Naples' Royal Palace is a great place to learn all about the city's history over the past few centuries from the point of view of its royal rulers: you'll be immersed in the luxury in which they lived, almost exactly preserved as it was at the time.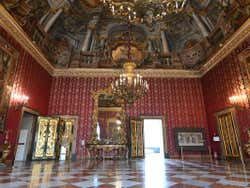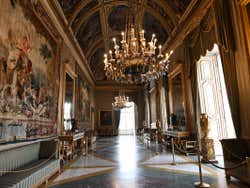 Schedule
Thursday to Tuesday: 9 am to 8 pm.
Closed Wednesdays.
Price
Adults: € 10 (US$ 10.70).
Young people between 18 and 24 years old: € 2 (US$ 2.10).
Children under 18 years old: free entry.