San Domenico Maggiore Church
Built between 1283 and 1324, San Domenico Maggiore Church is one of Naples' most emblematic places of worship, both for its artistic value and for its great historical importance.
Commissioned by Charles I of Anjou in the late 13th century, San Domenico Maggiore was the Angevins' royal church. It is located in a square of the same name bordered by the emblematic Spaccanapoli and also home to one of the three spires of Naples: monumental columns built to celebrate the end of the plague.
Discover San Domenico Maggiore
Hidden unexpectedly behind its austere Gothic façade, San Domenico Maggiore's interior is opulently decorated with intricate gold details, tall columns and a dramatic altar, and filled with paintings and sculptures. Pop into the Cappella Brancaccio to see some of the church's original 14th century frescoes.
Guided tour of the Sacristy
The church's sacristy is home to the sarcophagi of 45 members of the Aragonese nobility, including King Ferdinand I. If you take the guided tour, don't miss taking in the spectacular fresco decorating the ceiling before your visit takes you on to the monastery room once inhabited by St Thomas Aquinas.
A hidden gem
Despite its somewhat unwelcoming exterior appearance, the Church of San Domenico Maggiore is one of Naples' most unusual and interesting places of worship thanks to its surprisingly rich interior decor. Its location in the centre of the historic city makes it a great place to discover while visiting the nearby Cappella Sansevero or exploring Spaccanapoli.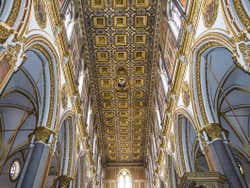 Schedule
Daily from 10 am to 6 pm.
Price
Free entry.
Guided tour of the Sacristy: € 5 (US$ 5.40)