A muse for writers, an inspiration for artists, and a refuge from the noise of the world, Capri is an idyllic island surrounded by an impossibly blue sea.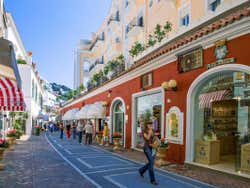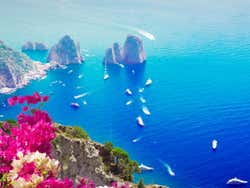 Inhabited since ancient times, Capri was home to the magnificent villas of great Roman Emperors like Augustus and Tiberius. The island was then all but forgotten for several centuries, coming under the control of the various rulers of Naples and suffering a series of pirate attacks before being re-discovered as a popular resort for wealthy European artists, writers and other celebrities.
What to see in Capri?
Capri deserves its luxury reputation: spectacular landscapes of rugged, cave-dotted cliffs and mesmerising azure sea are worthy of the best postcards, and if you're not captivated by the songs of the mythical sirens that inhabit the island, you'll be by the enchanting lanes of its picturesque towns. 
It's roughly divided in two between the town of Capri, which occupies the centre and east of the island and is known for its glamour and fashionable visitors, and Anacapri, the somewhat more relaxed but still equally charming western area.
Fill your trip to Capri with visits to the following unmissable sights:
Faraglioni: one of the most stunning areas of the island and one of Capri's most famous sights, the "faraglioni" are three giant rock formations that tower out of the sea south of the island.
Blue Grotto: the personal swimming hole of Emperor Tiberius, a marine temple and a mythical dwelling place for mermaids, this beautiful natural sea cave (Grotta Azzurra in Italian) is filled with a magical blue light. Located to the west of the island, it's best visited by boat tour.
Giardini di Augusto: the botanical Gardens of Augustus are perched high up on one of Capri's characteristic rocky cliffs, making them an unparalleled vantage point for views over the coast and the faraglioni.
Piazzetta di Capri: officially called Piazza Umberto I but affectionately nicknamed "Piazzetta", or "Little Square", this lively, cafe-lined hub is a favourite meeting place for residents and visitors alike.
Seggiovia del Monte Solaro: catching this old-fashioned chairlift from Anacapri up to the island's tallest peak, Monte Solaro, is a lovely - if short-lived - way to take in the views of the wildflower-filled rural landscapes below. (Runs March to October, € 12 (

US$

12.90) return ticket).
Villa Jovis: the largest of the twelve villas built by Tiberius, the ruins of this once-lavish villa still stands atop a sheer cliff that offers incomparable views over the surrounding area. A 45-minute walk from Capri town centre, it's well worth a visit if only to peer nervously over the "Salto di Tiberio", a dizzying drop over which Tiberius had people thrown if they dared to disobey his orders!
How to get to Capri from Naples?
The only way to get to the island is by boat, whether by public ferry or by organised tour:
Organised excursion
The easiest and most comfortable way to get to visit Capri from Naples is to reserve an excursion which includes hotel pickup and drop off, an English-speaking guide, and visits to the island's top sights, so all you need to do is sit back and enjoy the stunning views! 
Take a look at the different options via the following links:
Ferry
The ferry route between Naples and Capri is operated by three different companies: SNAV, NLG and Caremar. There are usually two boats per hour between 7 am and 6 pm, and one departure an hour afterwards until 9 pm or 10 pm. The journey takes around an hour and costs around € 20 (US$ 21.50) each way depending on the company and the time of day.